Tons of Celebrities Showed Up for Joan Rivers' Funeral


JOAN RIVERS' funeral wasn't quite the red carpet event she'd wanted, but it was definitely a star-studded event. The celebrity lineup was seriously impressive.
The names included .
Ozzy, Sharon and Kelly Osbourne, Giuliana and Bill Rancic, Kathy Griffin, Rosie O'Donnell, Mario Cantone, Kristin Chenoweth, Sally Jesse Raphael, Hota Kotb, Kathie Lee Gifford, Andy Cohen, Whoopi Goldberg . . .
Sarah Jessica Parker and Matthew Broderick, Jeff Ross, Donald and Melania Trump, Judge Judy Sheindlin, Michael Kors, Geraldo Rivera, Barbara Walters, Rachael Ray, Billy Bush, Joy Behar, Dr. Oz . . .
Kyle Maclachlan, Wanda Sykes, Paul Shaffer from "Letterman", Diane Sawyer, Charlie Rose and designers Michael Kors, Carolina Hererra, Oscar de la Renta and Dennis Basso.
HOWARD STERN gave a eulogy, in which he said that Joan, quote, "fought the stereotype that women couldn't be funny. She was responsible for putting the red carpet into prime time."
He added, quote, "I hope Joan is somewhere right now chasing Johnny Carson with a baseball bat" . . . a reference to Johnny's feud with Joan that lasted from the mid-'80s until his death.
Joan's daughter MELISSA also spoke, saying, quote, "I am grateful for everyday [my son] Cooper and I had with you. You are an inspiration."
There were also several musical performances. HUGH JACKMAN sang a song called "Quiet Please, There's a Lady Onstage", from the musical "The Boy from Oz".
The New York City Gay Men's Chorus sang "Hey Big Spender" and "There Is Nothing Like a Dame" . . . and Broadway star Audra McDonald performed a rendition of "Smile".
As mourners left the Temple Emanu-El, bagpipes played "New York, New York" and "Give My Regards to Broadway".
Geraldo later said of the ceremony, quote, "When they started with an X-rated joke and the rabbi was bowing his head I think it was joyful more than sorrow.
"[It was] filled with laughter. It was as if she wrote it herself. I thought it was a wonderful, positive upbeat time."
One last note: Joan had said that at her funeral, she wanted, quote, "Bobby Vinton to pick up my head and sing 'Mr. Lonely.'" Well, Bobby is 79 and recovering from pneumonia, so he couldn't be there.
---
There's a moment in everyone's life when they spot that first GRAY HAIR and have a giant existential freak out about their mortality. And that moment is . . . age 33, apparently.
A new survey found the average woman spots her first gray hair at age 33.
Redheads spot their first gray hair at 30 . . . women with brown and black hair spot their first one at 32 . . . and blondes don't see their first one until 35, because their hair is so light already.
88% of women say they dye their gray hairs . . . but by age 68, women finally stop fighting that battle and give up on dying their gray hairs.
---

Five Random Facts For Tuesday
1. When
JACK NICHOLSON
was 37, he found out the woman he thought was his sister was really his MOTHER.
2. The word dilemma originally meant a choice between two tough options. Three options was a trilemma, four options was a quadrilemma, and so on.
3. The most money someone could make on an episode of "Jeopardy!" is $566,400. But that would require getting the Daily Doubles as the last question or questions in both rounds, and doubling up with them every time.
4. In the movie "The Mask", CAMERON DIAZ'S role almost went to ANNA NICOLE SMITH.
5. There's enough energy in one gallon of gas to charge your iPhone once a day for almost 19 years.
(Wikipedia / Etymology Online / Datagenics / Uproxx / Jeff Lewis)


---
A New Alarm Clock Wakes You Up By Brewing a Fresh Cup of Coffee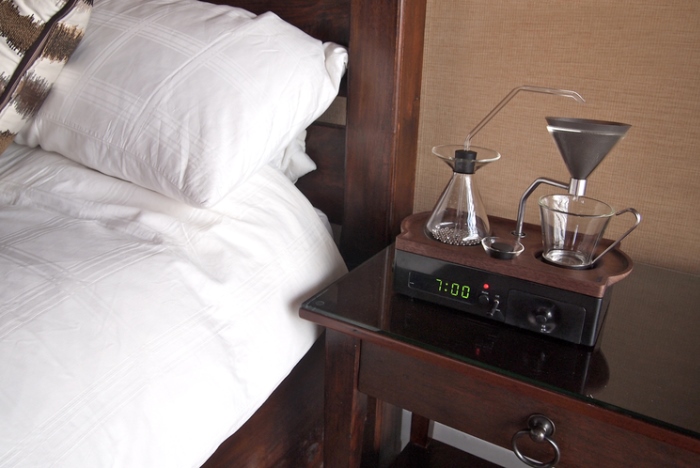 How did no one think of this invention before? It was RIGHT THERE.
A designer in London named Josh Renouf just created an alarm clock that wakes you up by brewing a cup of COFFEE.
So instead of waking up to a horrible alarm sound, you wake up to the smell of fresh coffee right next to your head. And instead of having to go to the kitchen and make your coffee, it's sitting right next to your bed waiting for you.
Obviously there are tons of coffee makers that brew on a timer. But this one is cooler . . . it basically looks like a digital alarm clock with wood paneling and a fancy chemistry set on top. It even has little drawers to store sugar and cream.
Unfortunately, the clock isn't ready yet . . . Josh is still in the process of having them manufactured. When they're done, they won't be cheap . . . the price will start around $250.


---
So Bear has a New Show

In the hour-long alternative series, "Running Wild with Bear Grylls," the famed adventurer and survivalist will take six celebrities into the wildest and most remote locations in the U.S. and around the world for a 48-hour journey of a lifetime.The celebrities who will be partnered one-on-one with Grylls in their own stand-alone episodes include actor Zac Efron ("Neighbors"), actor-director Ben Stiller ("The Secret Life of Walter Mitty"), actor Channing Tatum ("22 Jump Street"), NFL Hall of Famer Deion Sanders, actor Tom Arnold ("Sons of Anarchy") and MSNBC and "Today" anchor Tamron Hall.
Each of the celebrities endures the harsh wilderness in high-octane, action-based and empowering journeys spread over six remote locations. From skydiving into the Catskill Mountains, to rappelling down the cliffs of Utah and battling torrential wind and rain in Scotland, Grylls and each celebrity will have to push both their minds and bodies to the limit to successfully complete their journey.
The show was created by Grylls, who recently starred on the NBC series "Get Out Alive with Bear Grylls."
---
SOOOO..Sharknado 1 & 2 were on SYFY last night...people were twittering all over the place about it..i tried to watch it and got through about 10 minutes of the first one..going to try to watch it this weekend...Did you watch? and what did you think? email me and tell me what you thought of it cadams@wupe.com
and for you who missed out what it is all about here it the trailer...


---



There's a big difference between the cereal we LIKE and the cereal we actually buy and eat . . . because apparently, we just love depriving ourselves.
A real estate blog called Movoto just figured out the most popular cereal in each state based on Facebook likes, and compared that with the best-selling cereals in the U.S.
Honey Nut Cheerios was the best-selling cereal in 2013 . . . but it's not the most liked cereal in a single state.
That honor goes to Cinnamon Toast Crunch . . . which is the most-liked cereal in over HALF of the country, with 27 states. BUT it's only the fifth-best selling cereal overall.
The top 10 best selling cereals in the U.S. are: Honey Nut Cheerios . . . Frosted Flakes . . . Honey Bunches of Oats . . . Cheerios . . . Cinnamon Toast Crunch . . . Special K . . . Frosted Mini Wheats . . . Lucky Charms . . . Froot Loops . . . and Raisin Bran.
After Cinnamon Toast Crunch, the next-most liked cereal is Special K. It's the most popular cereal in 21 states. So either Cinnamon Toast Crunch or Special K is number one in 48 out of 50 states.
The two others: Froot Loops is the most liked cereal in Kentucky . . . and Frosted Mini Wheats is the most liked cereal in West Virginia.


---
A Fist Bump Passes 95% Fewer Germs Than a Handshake
One day, the handshake is going to disappear entirely and we're all going to fist bump when we meet someone or close a business deal. And we are all going to be SO COOL.
A new study in the "American Journal of Infection Control" found that a fist bump is WAY more hygienic than a handshake . . . a fist bump passes about 95% fewer germs than a handshake.
If you don't want to fist bump, you should at least HIGH FIVE instead of shaking hands. A high five passes about 50% fewer germs than a handshake.


---

A Simple Formula to Figure Out What You Should Be Doing With Your Life

Maybe you don't know what you should be doing with your life. But you know what you're doing right now ain't it . . . right?
A career counselor named Richard Leider came up with a simple formula to figure out what you should be doing with your life. The formula is G plus P plus V . . . G stands for gifts, P stands for passions, V stands for values.
First, figure out your GIFTS . . . those are the things you're good at. And that can include anything . . . you could be gifted at motivating people, solving puzzles, running long distances, whatever.
Then, figure out your PASSIONS . . . those are the things you really CARE about. They can be social issues, like feeding the homeless . . . personal passions, like making people laugh . . . or even the passion to make a ton of money.
And finally, figure out your VALUES . . . those are the things you NEED to have in your lifestyle to make you happy. Do you want to be home for dinner with your family every night? Do you hate waking up early? Do you want to travel?
Now, look at your gifts, passions, and values and start brainstorming careers that fit with your answers under each one. When you find a career that fits all three, that's a potential career for you.

---
One in Four People Trust Google More Than Their Doctor

I've never been a big fan of Googling my symptoms . . . because no one posts online when their stomach pain just turns out to be indigestion, they post when it's a giant scorpion laying eggs in their bladder.
According to a new survey, people are putting WAY too much faith in the Internet to diagnose themselves. One out of FOUR people say they trust what they find when they Google their symptoms more than their DOCTOR'S diagnosis.
And that's not a good idea. In a study earlier this year, researchers Googled people's symptoms then compared the results to the people's actual illnesses. The web results were only right 58% of the time.
Another study found that 11% of medical websites give incorrect health advice.
---
We found a list online of sounds you'll probably never hear again, and some are pretty recent . . . although the sound of a modem connecting DOES feel like it was 100 years ago.
Anyway, here are nine sounds that are either extinct, or so rare today that they might as well be . . .
1. A factory whistle starting or ending a shift.
2. A mechanical cash register.
3. A steam locomotive.
4. A car backfiring.
5. A dial-up modem.
6. TV static.
7. A busy signal.
8. A pager.
9. A fax machine.
---

Just because you're about to hit your FIFTIES doesn't mean you have to stop being cool. Or, if you were never cool . . . hey, maybe 50 is when you're finally going to start.
A new survey just found the things you need to do to be a "cool" 50-year-old man. Here are the top 10 things you should do . . .
1. Embrace your baldness by shaving your head.
2. If you have hair, keep it trimmed. It's up to you whether you dye it or just let the gray happen . . . both are alright.
3. Wear a good watch.
4. Use moisturizer.
5. If you're single, date women close to your age.
6. Do not spray tan.
7. Do not grow a soul patch.
8. Don't wax your body hair, especially your chest.
9. Don't get a facelift.
10. Don't text your kids' friends, follow them on Instagram, or friend them on Facebook.
DO YOU AGREE WITH THIS?

EMAIL ME AND TELL ME WHAT YOU THINK..
CHERYL WANTS TO KNOW WHAT YOU THINK