Everybody was talking this week about the female fighter pilot from the United Arab Emirates who gave it to ISIS this week in Syria. It's kind of cool, because she's the country's first female fighter pilot, and ISIS is so oppressive towards women. But when they brought it up on Fox News, all the male co-hosts could do was crack sexist jokes about it. (Greg Gutfeld made a joke about how she couldn't park the plane when she came back from the mission, and Eric Bolling asked if they should call her "boobs on the ground." Sounds like a reference to the expression "boots on the ground," but who knows.
The smart one of the whole bunch was the female co-host is Kimberly Guilfoyle.)
Listen to audio ...




---


Derek Jeter's Final At-Bat at Yankee Stadium Was a Game-Winning Single
DEREK JETER played his final game at Yankee Stadium last night, and it could hardly have gone better. His last at-bat, in the bottom of the ninth, was an RBI single that gave the Yankees a 6 to 5 win over the Baltimore Orioles.
Jeter had a monster game throughout the night. He hit an RBI double off the wall in his first at-bat, then scored a run. And in the 7th inning he grounded into a fielder's choice that scored TWO runs thanks to a Baltimore throwing error.
Former teammates Jorge Posada, Mariano Rivera, Bernie Williams, Andy Pettitte and Tino Martinez and ex-Yankee manager Joe Torre lined up near the dugout to congratulate Jeter.
After the game he said, quote, "I've said it time and time again. Everybody is chanting, 'Thank you, Derek.' I'm thinking to myself, 'For what?' I just want to thank you guys."
The Yankees didn't make the playoffs, but they do have a series against the Red Sox in Boston this weekend to finish out the season. Jeter said he probably won't play shortstop, though. He'll just be the designated hitter.
---

I don't mean to make you PARANOID about your relationship . . . but there's a 50-50 chance your wife or girlfriend has already handpicked your REPLACEMENT if your relationship goes bad.
A new survey found HALF of women have a "plan B" guy in mind in case their current relationship ends. Here are some stats on those plan B guys . . .
The most likely candidate is one of her old friends. Other candidates are an ex, a coworker, or someone she knows from the gym.
The average woman has known her plan B guy for seven years.
70% of women with a plan B guy are currently in TOUCH with him.
10% of women say their plan B guy already confessed that he's always been in love with her. 20% say they're pretty sure their plan B guy would drop everything to be with her.
And 12% of women say they actually have stronger feelings for the plan B guy than they do for the guy they're currently with.

---


The Guy Who Started "Bendgate" . . . the Bending Problem With the iPhone 6
By now you might have heard about "Bendgate." Bendgate is two things: An issue where the design of the iPhone 6 Plus allows it to bend . . . and the most annoying example yet of adding '-gate' to minor problems, to make them sound like Watergate.
It started with the YouTube channel Unbox Therapy. They posted a video yesterday called "iPhone 6 Plus Bend Test" where they showed how it was fairly easy to bend the new, bigger, iPhone 6 Plus with just your hands. And it already has 16 MILLION views.



They didn't exactly discover the issue . . . they did the video in response to people who'd bought the phone, and found it was bending in their front or back pockets. But after the video, #bendgate started trending on social media. (Do you care?)
Then people argued that the case is made of aluminum and about a quarter-inch thick . . . so it doesn't take super-human force to bend it. (Maybe you should stop wearing skinny jeans?)





So Unbox Therapy did ANOTHER test, to see whether any of this was a big deal. They tried to bend the iPhone BACK, and cracked the frame and the screen. While other brands of phones didn't bend at all. So 'Bendgate isn't going anywhere.
As for Unbox Therapy it's basically just a guy named Lewis Hilsenteger, covering new gadgets, technology, and electronics. He has 1,225,603 subscribers and 120,042,867 views. And will probably get a lot more after this.
---



Gaining Weight Lately? September Is the Second "Fattest" Month of the Year
It's officially fall . . . six months of being able to hide any unwanted LUMPINESS under big sweaters and jackets! Which means . . . it's time to EAT.
If you've noticed you've been eating a little more heartily these past few weeks, you're not alone. A new study found September is the second "fattest" month of the year. There's only one month where people gain more weight . . . December.
People put on an average of two pounds this month. Compared to FOUR pounds in December.
So the top five months for gaining weight, in order, are: December, September, August, November, and October.
We LOSE the most weight in January, and the second-most in June.
---
SkyMall" magazine has really upped their "stupid product" game . . . and they did it with THIS.
"SkyMall" is selling a new watch called Tikker that counts down until your DEATH.
When you get the watch, it uses, quote, "statistics and a personal health algorithm" to figure out your life expectancy. And then, the countdown begins . . . you literally watch the remaining seconds of your life tick away.
The watch also tells you the current time, but apparently not well . . . the photo in the ad displays the time "12:76." Clearly, the "current time" feature of this watch is NOT the selling point.
The watch sells for $79.99. The ad says it's a, quote, "happiness watch [because it] inspires you to live your life to the fullest."
---
AC/DC has announced that founding guitarist MALCOLM YOUNG is NOT coming back.
Earlier this year they said he was just taking a break. At the time lead singer BRIAN JOHNSON said he had a, quote, "debilitating illness."
Well, it must be pretty serious, because now they're saying that Malcolm is done for GOOD.
Quote, "Unfortunately, due to the nature of Malcolm's condition, he will not be returning to the band." There's still no word what's wrong with him. Malcolm is 61 years old.
AC/DC will continue though, with Malcolm's nephew STEVIE YOUNG in his place. Stevie played guitar on their new album "Rock or Bust", which comes out on December 2nd. And he'll go out on tour with them next year.
"Rock or Bust" will be the first album in the band's 41-year history NOT to feature Malcolm. His last album with the band was "Black Ice", which came out in 2008.
---

DEREK JETER's retirement is almost upon us . . . so if you're one of the MANY people who would LOVE to own a USED SOCK that Jeter actually wore in a game, you should act now, because you're running out of time.
SteinerSports.com has some of Jeter's used socks on sale, for a measly $410 . . . each. That's right, $410 won't even get you a PAIR.
The sock HAS been washed, so unfortunately it won't come with any of Jeter's funk. Which honestly seems to devalue it. If you can't satisfy your kink . . . what's the point in dropping over $400 on a sock that is probably worth less than $10?
It's unclear how many have been sold, but last we checked the site only had 19 socks available. They also have a lot of other Jeter stuff . . . game-worn uniforms WITH dirt and grass stains are going for more than $25,000 . . .
Game-used bases signed by Jeter go for $10,000 to $12,500 . . . a signed lineup card has an asking price of $10,000 . . . and used batting gloves go for about $800. Sadly, no game-worn Jeter jockstraps are available.
This would seem cool if it was for charity, but the "New York Post" says all the proceeds go to Jeter and the Yankees . . . a team that's worth more than $2.5 BILLION. (Hit up SteinerSports.com to browse through Jeter's yard sale.)


---


Is It Acceptable to Use Your Cell Phone During Dinner, Checking Out at the Grocery Store, or at the Movies?

Everywhere you go these days . . . on the street, at a restaurant, at the movies . . . you see people staring straight down at their phones. Unless you're too busy staring at YOURS. So . . . has it become socially acceptable?

A new survey asked people when it is and isn't appropriate to use your cell phone in public. Here are the results . . .

47% say it's acceptable to use your phone for talking or texting when you walk down the street. 17% say it's only acceptable for talking . . . not looking down and texting.

34% say it's acceptable to be on your phone when you're checking out at a store.

28% say it's acceptable to be on your phone texting when you're with other people at a restaurant. Another 48% say it's only okay to pull out your phone at a restaurant if you're sharing something on it with the group.

26% say it's acceptable to use your phone in a movie theater during previews . . . 6% say it's acceptable to text during a movie . . . and 3% think it's acceptable to TALK on your phone during a movie.
---
Checking Your Work Email at Home Could Literally Kill You
We all know we should push back when work wants us to stay on email after hours . . . but we don't. So make sure your boss somehow hears about this study today . . . it might be the only way to change their mind.
A new study out of Germany found that checking your work email at home could LITERALLY kill you.
Researchers studied more than 57,000 people and found people who checked work emails and sometimes wound up doing work at home were more likely to have heart problems, headaches, anxiety, insomnia, fatigue, and stomach issues.
The theory here is pretty simple . . . when you're "always on," you never give your body and mind a chance to relax and recuperate. Over time, all that extra stress adds up until your body just can't handle it anymore.
---
We all know we should push back when work wants us to stay on email after hours . . . but we don't. So make sure your boss somehow hears about this study today . . . it might be the only way to change their mind.
A new study out of Germany found that checking your work email at home could LITERALLY kill you.
Researchers studied more than 57,000 people and found people who checked work emails and sometimes wound up doing work at home were more likely to have heart problems, headaches, anxiety, insomnia, fatigue, and stomach issues.
The theory here is pretty simple . . . when you're "always on," you never give your body and mind a chance to relax and recuperate. Over time, all that extra stress adds up until your body just can't handle it anymore.
Everyone's been going nuts over 21-year-old Jasmine Tridevil in Tampa, Florida, because she had a
THIRD BREAST
implanted.
It had "hoax" written all over it, but we all WANTED to believe it. Unfortunately . . . yeah, it's a hoax. Here are the six reasons why .
1. Some minor Internet detective work found that Jasmine Tridevil is almost certainly the fake name of a woman named Alisha Hessler. Alisha looks exactly like "Jasmine" and she registered the domain name JasmineTridevil.com.
2. On a website where Alisha advertises her massage services, she wrote that she's a, quote, "provider of Internet hoaxes since 2014" and a, quote, "specialist in massage for three-breasted women."
3. Alisha made the news back in December when she said she was attacked by a man outside a night club, and forced him to stand on a street corner wearing a dunce cap with a sign that said, quote, "I beat women, honk if I'm a scumbag."
But when the police got involved, she never filed charges and stopped returning their calls.
4. Alisha was arrested back in March for fraudulent use of personal information, apparently using a fake ID to get into a club. That's not necessarily proof of the hoax, but does help show her pattern.
5. This might be the most damning evidence of all: Alisha filed a stolen baggage claim at the Tampa International Airport earlier this month and one of the things she reported missing was a, quote, "three-breast prosthesis."
6. And finally, a plastic surgeon says NO plastic surgeon would give a woman a third breast . . . because it's clear she would need a psychological evaluation, and performing the surgery would be unethical.
(Here's the photo from Alisha's past year.)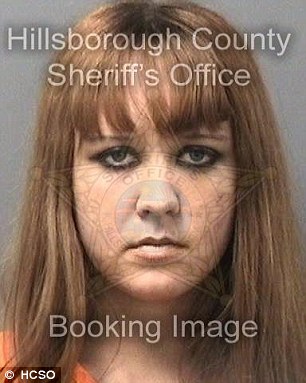 ---
You Can Be an Extra in the "Magic Mike" Sequel
You know how much FUN the ladies seem to be having in those "Magic Mike" dance sequences? Well, YOU can get in on some of that fun in the sequel, "Magic Mike XXL".

Want to get up close and personal with the men of Magic Mike? Tell us why you're the biggest #MagicMike fan for the chance to be an extra in #MagicMikeXXL! All entries MUST INCLUDE the hashtag #MagicMikeContest AND the official rules URL http://MagicMikeContest.com/ (so that we know you agree to them) and must comply with the Submission Requirements in the official rules!

Contest is subject to official rules, which contain details on how to enter. Ends 9/29/14 @ 12:00:00 pm PT. Open only to legal residents of 50 US or DC, 18+ & age of majority.
CHANNING TATUM announced a contest on his Facebook page, and all you have to do to be an extra in some of those scenes is send pictures or a video that explains WHY you want a piece of this. (Here's the official contest website.)
Meanwhile, JADA PINKETT SMITH confirmed yesterday that she's in the movie . . . in a part that was originally written for a man.
---

A new survey found the average woman spends five hours a week in a bad mood . . . that adds up to almost 11 full days a year. Which actually seems kind of LOW . . . for men AND women.










Top Reasons people gave for being in a bad mood.......

Being overweight
Partner not listening
Feeling under the weather
Weather/ bad weather
Not having enough money
Technology e.g. internet crashing / computer not working
Feeling undervalued
No one helping with anything
Time of the month
PMT
Having nothing to wear
Having a bad hair day
Keeping on top of housework / washing
A boring life
Heavy workload
The traffic
Colleagues not pulling their weight
Being hungry
Children not listening
Public transport being late
Hating your job
Waking up with a spot
Knowing what to cook for dinner every night
Your boss putting pressure on you
Rubbish on TV
Ungrateful children
All the hot water being used up in the morning
Your friends' Facebook updates
Going through menopause
Colleagues being late for work
No one making you a cup of tea
Breaking a nail
---


If I mention the movie "Total Recall", what's the first thing you think of? Yep . . . the alien chick with THREE BOOBS. Well . . . it's no longer science fiction.
21-year-old Jasmine Tridevil is a masseuse in Tampa, Florida . . . and she recently spent $20,000 to have a THIRD BOOB implanted on her chest.
She says she did it because she's SICK OF MEN, and figured a third boob would make her UNATTRACTIVE to guys. Which, if you know ANYTHING about guys, is clearly a WILD miscalculation on her part. If anything, guys will now be MORE intrigued by her.
If all this sounds like a wild publicity stunt to get attention . . . you're absolutely right. Jasmine admitted another one of her goals is to have a reality show on MTV.
She says she talked to at least 50 doctors before one agreed to give her the third breast. He couldn't give her a nipple or areola so she had one tattooed on.



---

Tons of Celebrities Showed Up for Joan Rivers' Funeral


JOAN RIVERS' funeral wasn't quite the red carpet event she'd wanted, but it was definitely a star-studded event. The celebrity lineup was seriously impressive.
The names included .
Ozzy, Sharon and Kelly Osbourne, Giuliana and Bill Rancic, Kathy Griffin, Rosie O'Donnell, Mario Cantone, Kristin Chenoweth, Sally Jesse Raphael, Hota Kotb, Kathie Lee Gifford, Andy Cohen, Whoopi Goldberg . . .
Sarah Jessica Parker and Matthew Broderick, Jeff Ross, Donald and Melania Trump, Judge Judy Sheindlin, Michael Kors, Geraldo Rivera, Barbara Walters, Rachael Ray, Billy Bush, Joy Behar, Dr. Oz . . .
Kyle Maclachlan, Wanda Sykes, Paul Shaffer from "Letterman", Diane Sawyer, Charlie Rose and designers Michael Kors, Carolina Hererra, Oscar de la Renta and Dennis Basso.
HOWARD STERN gave a eulogy, in which he said that Joan, quote, "fought the stereotype that women couldn't be funny. She was responsible for putting the red carpet into prime time."
He added, quote, "I hope Joan is somewhere right now chasing Johnny Carson with a baseball bat" . . . a reference to Johnny's feud with Joan that lasted from the mid-'80s until his death.
Joan's daughter MELISSA also spoke, saying, quote, "I am grateful for everyday [my son] Cooper and I had with you. You are an inspiration."
There were also several musical performances. HUGH JACKMAN sang a song called "Quiet Please, There's a Lady Onstage", from the musical "The Boy from Oz".
The New York City Gay Men's Chorus sang "Hey Big Spender" and "There Is Nothing Like a Dame" . . . and Broadway star Audra McDonald performed a rendition of "Smile".
As mourners left the Temple Emanu-El, bagpipes played "New York, New York" and "Give My Regards to Broadway".
Geraldo later said of the ceremony, quote, "When they started with an X-rated joke and the rabbi was bowing his head I think it was joyful more than sorrow.
"[It was] filled with laughter. It was as if she wrote it herself. I thought it was a wonderful, positive upbeat time."
One last note: Joan had said that at her funeral, she wanted, quote, "Bobby Vinton to pick up my head and sing 'Mr. Lonely.'" Well, Bobby is 79 and recovering from pneumonia, so he couldn't be there.
---
There's a moment in everyone's life when they spot that first GRAY HAIR and have a giant existential freak out about their mortality. And that moment is . . . age 33, apparently.
A new survey found the average woman spots her first gray hair at age 33.
Redheads spot their first gray hair at 30 . . . women with brown and black hair spot their first one at 32 . . . and blondes don't see their first one until 35, because their hair is so light already.
88% of women say they dye their gray hairs . . . but by age 68, women finally stop fighting that battle and give up on dying their gray hairs.
---

Five Random Facts For Tuesday
1. When
JACK NICHOLSON
was 37, he found out the woman he thought was his sister was really his MOTHER.
2. The word dilemma originally meant a choice between two tough options. Three options was a trilemma, four options was a quadrilemma, and so on.
3. The most money someone could make on an episode of "Jeopardy!" is $566,400. But that would require getting the Daily Doubles as the last question or questions in both rounds, and doubling up with them every time.
4. In the movie "The Mask", CAMERON DIAZ'S role almost went to ANNA NICOLE SMITH.
5. There's enough energy in one gallon of gas to charge your iPhone once a day for almost 19 years.
(Wikipedia / Etymology Online / Datagenics / Uproxx / Jeff Lewis)


---
A New Alarm Clock Wakes You Up By Brewing a Fresh Cup of Coffee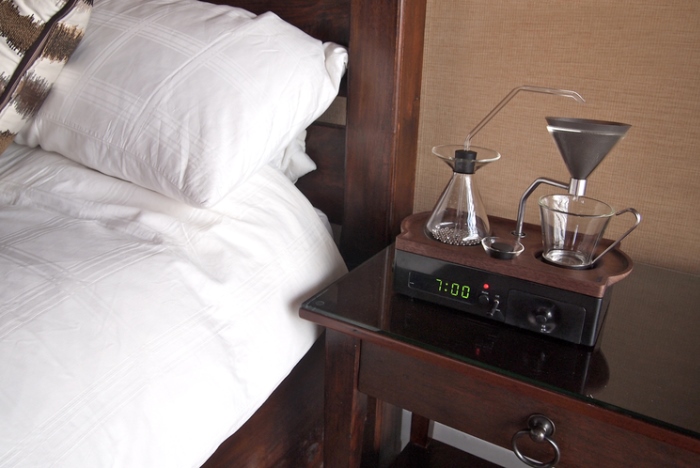 How did no one think of this invention before? It was RIGHT THERE.
A designer in London named Josh Renouf just created an alarm clock that wakes you up by brewing a cup of COFFEE.
So instead of waking up to a horrible alarm sound, you wake up to the smell of fresh coffee right next to your head. And instead of having to go to the kitchen and make your coffee, it's sitting right next to your bed waiting for you.
Obviously there are tons of coffee makers that brew on a timer. But this one is cooler . . . it basically looks like a digital alarm clock with wood paneling and a fancy chemistry set on top. It even has little drawers to store sugar and cream.
Unfortunately, the clock isn't ready yet . . . Josh is still in the process of having them manufactured. When they're done, they won't be cheap . . . the price will start around $250.


---
So Bear has a New Show

In the hour-long alternative series, "Running Wild with Bear Grylls," the famed adventurer and survivalist will take six celebrities into the wildest and most remote locations in the U.S. and around the world for a 48-hour journey of a lifetime.The celebrities who will be partnered one-on-one with Grylls in their own stand-alone episodes include actor Zac Efron ("Neighbors"), actor-director Ben Stiller ("The Secret Life of Walter Mitty"), actor Channing Tatum ("22 Jump Street"), NFL Hall of Famer Deion Sanders, actor Tom Arnold ("Sons of Anarchy") and MSNBC and "Today" anchor Tamron Hall.
Each of the celebrities endures the harsh wilderness in high-octane, action-based and empowering journeys spread over six remote locations. From skydiving into the Catskill Mountains, to rappelling down the cliffs of Utah and battling torrential wind and rain in Scotland, Grylls and each celebrity will have to push both their minds and bodies to the limit to successfully complete their journey.
The show was created by Grylls, who recently starred on the NBC series "Get Out Alive with Bear Grylls."
---
SOOOO..Sharknado 1 & 2 were on SYFY last night...people were twittering all over the place about it..i tried to watch it and got through about 10 minutes of the first one..going to try to watch it this weekend...Did you watch? and what did you think? email me and tell me what you thought of it cadams@wupe.com
and for you who missed out what it is all about here it the trailer...


---



There's a big difference between the cereal we LIKE and the cereal we actually buy and eat . . . because apparently, we just love depriving ourselves.
A real estate blog called Movoto just figured out the most popular cereal in each state based on Facebook likes, and compared that with the best-selling cereals in the U.S.
Honey Nut Cheerios was the best-selling cereal in 2013 . . . but it's not the most liked cereal in a single state.
That honor goes to Cinnamon Toast Crunch . . . which is the most-liked cereal in over HALF of the country, with 27 states. BUT it's only the fifth-best selling cereal overall.
The top 10 best selling cereals in the U.S. are: Honey Nut Cheerios . . . Frosted Flakes . . . Honey Bunches of Oats . . . Cheerios . . . Cinnamon Toast Crunch . . . Special K . . . Frosted Mini Wheats . . . Lucky Charms . . . Froot Loops . . . and Raisin Bran.
After Cinnamon Toast Crunch, the next-most liked cereal is Special K. It's the most popular cereal in 21 states. So either Cinnamon Toast Crunch or Special K is number one in 48 out of 50 states.
The two others: Froot Loops is the most liked cereal in Kentucky . . . and Frosted Mini Wheats is the most liked cereal in West Virginia.


---
A Fist Bump Passes 95% Fewer Germs Than a Handshake
One day, the handshake is going to disappear entirely and we're all going to fist bump when we meet someone or close a business deal. And we are all going to be SO COOL.
A new study in the "American Journal of Infection Control" found that a fist bump is WAY more hygienic than a handshake . . . a fist bump passes about 95% fewer germs than a handshake.
If you don't want to fist bump, you should at least HIGH FIVE instead of shaking hands. A high five passes about 50% fewer germs than a handshake.


---

A Simple Formula to Figure Out What You Should Be Doing With Your Life

Maybe you don't know what you should be doing with your life. But you know what you're doing right now ain't it . . . right?
A career counselor named Richard Leider came up with a simple formula to figure out what you should be doing with your life. The formula is G plus P plus V . . . G stands for gifts, P stands for passions, V stands for values.
First, figure out your GIFTS . . . those are the things you're good at. And that can include anything . . . you could be gifted at motivating people, solving puzzles, running long distances, whatever.
Then, figure out your PASSIONS . . . those are the things you really CARE about. They can be social issues, like feeding the homeless . . . personal passions, like making people laugh . . . or even the passion to make a ton of money.
And finally, figure out your VALUES . . . those are the things you NEED to have in your lifestyle to make you happy. Do you want to be home for dinner with your family every night? Do you hate waking up early? Do you want to travel?
Now, look at your gifts, passions, and values and start brainstorming careers that fit with your answers under each one. When you find a career that fits all three, that's a potential career for you.

---
One in Four People Trust Google More Than Their Doctor

I've never been a big fan of Googling my symptoms . . . because no one posts online when their stomach pain just turns out to be indigestion, they post when it's a giant scorpion laying eggs in their bladder.
According to a new survey, people are putting WAY too much faith in the Internet to diagnose themselves. One out of FOUR people say they trust what they find when they Google their symptoms more than their DOCTOR'S diagnosis.
And that's not a good idea. In a study earlier this year, researchers Googled people's symptoms then compared the results to the people's actual illnesses. The web results were only right 58% of the time.
Another study found that 11% of medical websites give incorrect health advice.
---
We found a list online of sounds you'll probably never hear again, and some are pretty recent . . . although the sound of a modem connecting DOES feel like it was 100 years ago.
Anyway, here are nine sounds that are either extinct, or so rare today that they might as well be . . .
1. A factory whistle starting or ending a shift.
2. A mechanical cash register.
3. A steam locomotive.
4. A car backfiring.
5. A dial-up modem.
6. TV static.
7. A busy signal.
8. A pager.
9. A fax machine.
---

Just because you're about to hit your FIFTIES doesn't mean you have to stop being cool. Or, if you were never cool . . . hey, maybe 50 is when you're finally going to start.
A new survey just found the things you need to do to be a "cool" 50-year-old man. Here are the top 10 things you should do . . .
1. Embrace your baldness by shaving your head.
2. If you have hair, keep it trimmed. It's up to you whether you dye it or just let the gray happen . . . both are alright.
3. Wear a good watch.
4. Use moisturizer.
5. If you're single, date women close to your age.
6. Do not spray tan.
7. Do not grow a soul patch.
8. Don't wax your body hair, especially your chest.
9. Don't get a facelift.
10. Don't text your kids' friends, follow them on Instagram, or friend them on Facebook.
DO YOU AGREE WITH THIS?

EMAIL ME AND TELL ME WHAT YOU THINK..
CHERYL WANTS TO KNOW WHAT YOU THINK