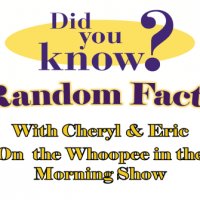 Every weekday morning around 8:20 Cheryl & Eric share with you 5  interesting, funny & strange Random Facts.
You can check here every weekday for the Random Facts of the day in case you missed them!
 Random facts brought to you by Sears Automotive Center at the Berkshire Mall,  where you can get a full oil change for 19.99 *Oil change special is plus tax and a $4.00 shop fee.  This is for conventional oil up to 5 quarts. Long life and synthetic oil changes are extra!
E-mail us your Random Fact, to fun@wupe.com  or fill out the form below with your Random Fact if we use it on Friday During "Random Facts" you will win a free oil change from the folks at Sears Automotive at the Berkshire Mall!
 Click on the picture below to find out more about Sears Automotive & money saving coupons!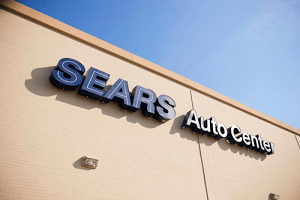 Here are some random facts for you . . .
1.  There are four presidents who didn't have a vice president:  John Tyler . . . Millard Fillmore . . . Andrew Johnson . . . and Chester A. Arthur.
All four of them were VPs under a president who died in office, and there was nothing in the Constitution about how to pick a new vice president.
2.  14% of American men who are at least seven feet tall play in the NBA.
3.  "SOS" by ABBA is the only top 40 song ever where the song title AND the artist are both palindromes.
4.  Buzz Lightyear's original name was Lunar Larry.
5.  Stan Lee served in the Army during World War Two . . . as an official Army PLAYWRIGHT.  Dr. Seuss also served as a playwright with him.  They created pamphlets for soldiers about how to avoid getting VD.
(Reference / New York Times / Wikipedia / IMDb / Grantland)
Five Random Facts For Thursday
Five Random Facts For Wednesday
Five Random Facts For Monday
Five Random Facts For Friday
Five Random Facts For Thursday
Five Random Facts For Wednesday
Five Random Facts For Tuesday 1/17
Five Random Facts For Monday 1/16